From 1914 to Today
Admiral is a brand with over a century of history in sports. With its roots in supplying sportswear to the United Kingdom's Royal Navy, the Admiral name has grown over the years as it evolved into supplying football kits to the English national team in the 1970s and a select group of Premier League teams. Today, the brand has a nostalgic feel offering mid-century inspiration in a modern context. Its history equipping athletes with innovative designs made it a natural fit for a collaboration. This has led to the limited collection from Macade and Admiral.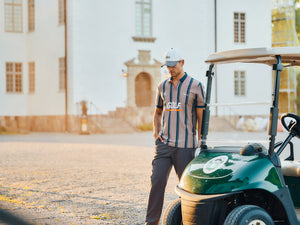 Our limited collection draws from historic traits of previous Admiral football kits and reinvents them for a golf course. Fabrics, collars, and stripes pay homage to the innovative designs of the 1970's era when English society was transitioning to color television and color choice was a revitalised territory.
Fabrics have been chosen to provide a cool and comfortable wear throughout any golf round. Our polyester and spandex blends ensure freedom of movement and breathability without compromising durability and longevity.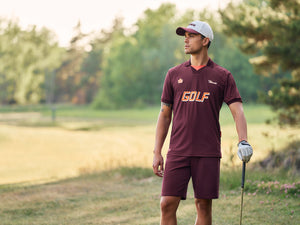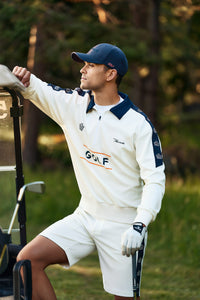 Admiral's iconic blue & white color combination plays a large role in the collection's palette as seen on the sleeve side stripes with repeating Admiral icons. The collection will include layering items such as quarter zips and pullovers, reminiscent of football coach and bench layering pieces.
We are proud to outfit Alex Norén at The Open 2023 with the Macade x Admiral collection as his official major scripting. See Alex don the outfits throughout the week and shop your favorite looks.